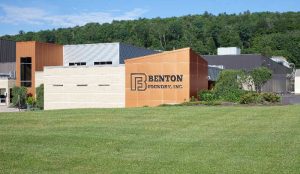 Benton Foundry in Benton, Pennsylvania USA, is a state-of-the-art ductile and gray iron, green sand foundry. Their six automatic molding centers produce industrial castings which can be very intricate with up to 50 chaplets in a four-core assembly. The Foundry has been in production for more than 160 years and the Hall family has been in the foundry industry for nearly 100 years.
In 2006, as a result of significant growth and a desire to further improve efficiency, Benton began evaluating its finishing processes. Benton foresaw the approaching change in demographics, recognizing that finishing room personnel were going to be more difficult to hire and even harder to retain. As an added challenge, one of the reasons for their growth is that they were expanding their market focus, adding a new molding line that would accommodate castings up to 250 lbs. The finishing area was not set up to accommodate castings of that size efficiently, and manually handling castings over 50 lbs. would not be part of the plan.
After successfully working with Vulcan Engineering in the past, Benton began the process of adapting the Foxall® Automated Casting Finishing cell to fit their finishing needs. Several parts were sent to Vulcan for evaluation and testing. Then, Vulcan worked with Benton's team to fixture, program and grind the parts. President of Benton Foundry, Jeff Hall, stated that, "… a great benefit was having three of our employees at Vulcan for several days getting familiar with the process."
Once the Foxall® was installed, the desired production was achieved with much more consistent parts. Fixturing and programming could be accomplished easily, quickly and inexpensively. The retention of operators over grinders has been a success, and abrasive costs were also greatly reduced. The robotic grinder's closed capture ventilation was an added asset. This feature later proved to be an even greater potential advantage in light of the proposed silica regulations.
In 2010, Benton installed a second Foxall® system. This particular unit was the first unit that Vulcan equipped with Force Control. This technology monitors the force on the spindle, allowing the robot to be programmed to run faster than units without this feature. Also, the use of Force Control helps to protect the robot from mechanical abuse that could lead to costly repairs.
Benton recently added two more units, including a larger Foxall® 636 unit that further exceeded expectations, and significantly reduced the payback period when grinding castings up to 250 lbs. "Generally, the larger the casting, the greater the productivity improvement. On the large end of our production envelope, we have had two operators replace seven floor grinders. In addition to time savings, both casting finish and consistency of grind have improved. The former floor grinders have been redeployed and the grinding room is a quieter, cleaner venue," said Jeff Hall.
Throughout the industry: floor, bench, and stationary grinding have historically been very labor intensive with positions predominately held by men. Robotic grinding is a game-changer in that regard. Operator fatigue is decreased, safety is increased and fewer personnel are needed. Plus, it is easier to find employees for machine operators than for manual grinders. The work is generally suitable for men and women of all ages, thus significantly increasing the pool of potential candidates to run these systems.
Quality Control at Benton has experienced a decrease in parts that need to be reworked and/or scrapped since the dimensional consistency of ground parts has greatly improved. This decrease in unacceptable parts is also due to having steady, accountable operators. Jeff Hall says, "The robotic cells are there every day, never take a shortcut, and remember all their instructions."
Over the years, Benton has improved the process of automation in their cleaning room by:
Adding hoists and other equipment for faster and easier material handling.
Continuing to work with Vulcan Engineering on additional features and programming options for their Foxall® systems.
Working with individuals in the abrasives industry to be able to grind faster, longer and more accurately while using a variety of tools.
Currently, Benton is operating four (4) Foxall® units. Benton Foundry has an objective to continue their efforts to improve automation, while streamlining the existing cleaning and grinding operations to be able to robotically grind ~70% of all product within the next 3-4 years.
Benton Foundry, Inc.
5297 State Route 487, Benton, PA 17814-7641 | 570-925-6711
benton@bentonfoundry.com | www.bentonfoundry.com