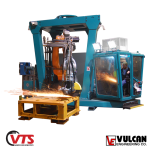 Introducing the VTS Telemanipulator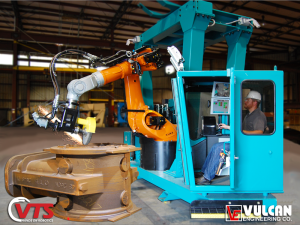 Vulcan engineers' have coupled hand position control with force-feedback to offer state of the art fully flexible robotic Equipment Systems. This tele-operated robotic technology provides leading edge cost effective solutions to address numerous demanding areas in foundries and offers distinct advantages over current hydraulic manipulators and dedicated robotic cells.
The unique design and flexibility of the Vulcan Equipment System enables floor operators, unskilled in robotic programming; to utilize the full range of control over robotic equipment in fully manual and semi-automatic modes. In addition, this same Equipment System, utilizing dedicated fixturing, ordinary robotic programming and only minor adjustments can then also be applied to fully automatic tasks.
In manual mode a scalar motion hand control is utilized to allow operators to quickly position the robot anywhere within an available sweep envelope to a work zone area. Once in the work zone hand control can be quickly rescaled to allow full hand motion while directing robotic moves within a much smaller range. An example of this benefit can be realized in finishing large castings without the requirement of dedicated fixtures or fixed casting orientation. The operator can rapidly move the robot into the work zone area of a removed riser or in-gate then rescale the hand control for more precise movement in this finite area. Through force feedback, as the operator directs and engages the grinding wheel to the casting surface, he will feel applied force or resistance in his hand control throughout the process.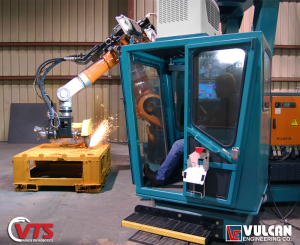 Using semi-automatic mode the programmability and excellent path following capabilities of the Equipment System can be exploited. Operators can be given access to a variety of preprogrammed and stored surface finishing subroutines to automatically remove feeder or flow-off contacts. Depending on the surface orientation and type subroutine required the operator manually touches off directed teach points around the area to be removed at the cast finish surface level and then switches the machine into an automatic mode to remove the area identified. After the defined area has been removed to match the cast finish surface specified the machine automatically returns to manual mode and requests the next operation. This unique feature eliminates over/under grind human error and the variation inherent in manned manipulator grinding operations. An additional advantage of the semi-automatic mode is the ability to use pre-taught subroutines for "out of position grinding" which saves the time and energy necessary to reposition a casting for a manipulator or preprogrammed robotic cell utilizing defined orientation fixtures.
For manual and semiautomatic operations the Equipment System is designed to allow operation from an onboard controlled environment cab with impact resistant glass for high visibility and safety. This affords the ability to remove, or at the least, place employees in a safer, cleaner environment relative to an undesirable area where personnel may be subjected to hot, dirty conditions and dangerous surrounding elements requiring extensive personal protection gear. Transforming this harsh environment for employees while accomplishing the same tasks can lead to improved productivity, lessened work related injuries, improved moral and reduced employee turnover.
In fully automatic mode the Equipment System can be positioned in a fixed isolated area, such as in front of turntable, and repetitively run fixed program(s). For this application an operator or tending robot load/unload castings on fixtures on one side of the turntable while the robot automatically completes the fixed program on the opposite side.
Regardless of the operational mode employed use of the force feedback sensitivity system affords great control over the process. Using grinding operations as an example, the variable force capability of a robot can be utilized for optimum metal removal. This enables improved cycle times, enhanced grind wheel life and can also control heat generation at the grinding surface, which is especially useful for finishing heat sensitive casting alloys.
The equipment is also designed to offer flexibility in mounting methodology dependent on application. Variations include fixed vertical or inverted mounting, seventh axis track mounting; vertical, side mounted or inverted, portable skid mounting or suspended mounting from a stacker type overhead crane. Fixed or track mounting requires product to be delivered or staged for processing in the equipment sweep area. The portable skid arrangement allows the equipment to be positioned by forklift or overhead crane for one operation and then moved between or to different locations for other tasks. This may allow large product or a work cell to be pre-positioned in one area while the equipment is working in an adjacent or separate location. Crane mounting applications are normally utilized for large product applications in extended crane bays. An application example of crane mounting would be the finishing of very large castings. Stacker crane mounting allows the operator to easily position the Equipment System anywhere over or around large castings to reach areas not accessible from a floor mounted machine. This also offers the added benefit of significantly reducing or eliminating material handling time repositioning castings within the reach of fixed equipment. Equipment mounting techniques can be altered during or between operating shifts pending operational requirements.
Many foundries produce widely variable casting volumes across different product lines and historically only medium or high volume casting runs were good candidates for specific automated applications based on the ability to justify a return on the capital investment. Utilizing this new Equipment System one machine can deliver multiple capabilities, enabling a competitive edge for the foundry while also providing significantly improved return on investment. The Vulcan Equipment System can be used on one shift for manual and/or semi-automatic tasks on low or medium volume casting runs and then on alternate shifts for high volume fully automatic applications. This scenario also exemplifies the purpose driven, fully flexible multi-task design of the equipment, offering improved utilization over typically higher cost single task dedicated solutions.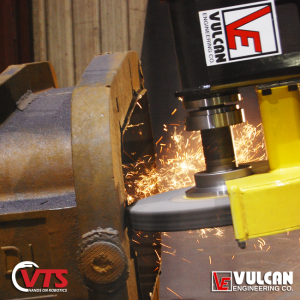 Vulcan's new technology and the Equipment System can be applied across numerous size ranges. Equipment hand controls are designed to be non-fatiguing, easily to learn and to operate. Scalar motion control, force feedback and high response are intuitive so prerequisite requirements for operator capabilities and training are diminished. Equipment operators are not required to learn robotic programming; however, they have the precision, accuracy and performance of a robotic system placed in their hands.
For grinding applications Vulcan's complete line of spindles are available; from electric with automatic tool changing capabilities to high horsepower hydraulic. Depending material removal requirements both bonded silica or super abrasive wheels can be utilized and also interchanged on the spindles specified.
In addition to the benefits described for casting cleaning and finishing are many material handling applications. Finally, the use of surface contact feedback and variable applied force settings also permits numerous qualification testing applications for larger products.