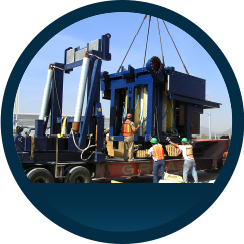 Vulcan Engineering Co. can design and supply the equipment you need, and can perform full installation of equipment and systems. We employ a team of installation personnel that will travel to your site for installation. Our team can install new equipment into your existing foundry, including all electrical and utility connections.
For larger projects, mechanical and electrical technicians travel with the team to provide onsite expertise during the installation process. For you, the customer, this means that the installation will be completed as fast as possible.
Besides installing equipment and systems, Vulcan can provide complete foundry projects including foundations, buildings, utilities and equipment. Rather than dealing with multiple contractors, equipment suppliers and engineering firms, you can allow Vulcan can be your one source for a foundry upgrade, foundry addition or new foundry.
Project Management
Vulcan Engineering provides a one source advantage. We provide systems and equipment interfacing/integration with extensive experience in "Greenfield" and "Brownfield" projects. Avoid gaps between projects due to multiple subcontractors by allowing Vulcan to handle the management of your projects and installation.
Vulcan's Project Management Services include
Purchasing
Sizing & Design
Engineering
Installation
Project Integration
Whether you're a operating a small or large foundry or want to start a new foundry, Vulcan Engineering Co. can help you with your equipment, system and total package needs for each process. Allow us to share our experience backed by expertise with you.